The ShanghaiTech Summer Lab Program for International Students, held from July 10 to August 20, welcomed a visiting student from the University of California, Berkeley (UC Berkeley) after a three-year suspension due to the COVID-19, injecting new vitality to the campus as well as facilitating the exchanges between the two universities.

After the online application and a careful interview, Ilan Naor Eliezer, an undergraduate student from UC Berkeley majoring in Materials Science and Engineering, was admitted. He joined the research groups of Assistant Professors Yan Jiajun and Qiao Bo in SPST to participate in the collaborative project called "Coordination Star Polymer Electrolytes". In addition to carefully guiding Ilan's research, the two supervisors also arranged several master students in their groups to help him in the lab with the synthesis of metal-organic polyhedra, linear polymers, star polymers, and hyperbranched polymers. With this guidance, Ilan could begin exploring the characterization of the synthesized products in solid electrolyte applications.
At the end of the program, Ilan submitted detailed experimental records and gave an oral presentation to summarize his research results obtained during the visit, which was well-recognized by his supervisors and other students in the groups.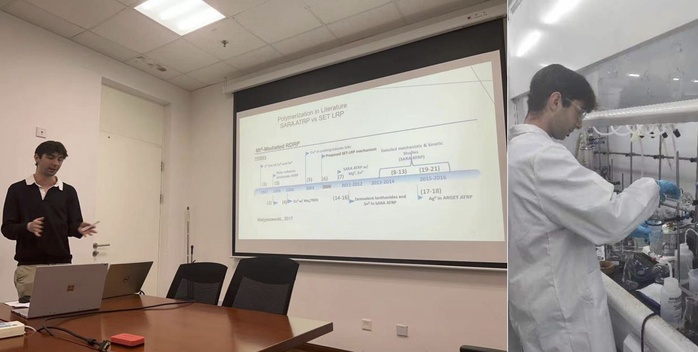 Left: oral presentation Right: laboratory operation
During his spare time, Ilan also joined various cultural and recreational activities in Shanghai, such as visiting the 2023 China Digital Entertainment Expo and Conference (ChinaJoy) and tasting local specialties.

Visit to 2023 ChinaJoy
"Before I leave, I would like to thank you all for making this entire summer program possible! I had a fulfilling and memorable time here. I will miss ShanghaiTech very much and hope to visit you again in the future." Ilan said.
ShanghaiTech and UC Berkeley enjoy a long-term and stable cooperative relationship. This summer lab program not only provides international students with unique learning and cultural experiences but also enhances the global vision of ShanghaiTech students.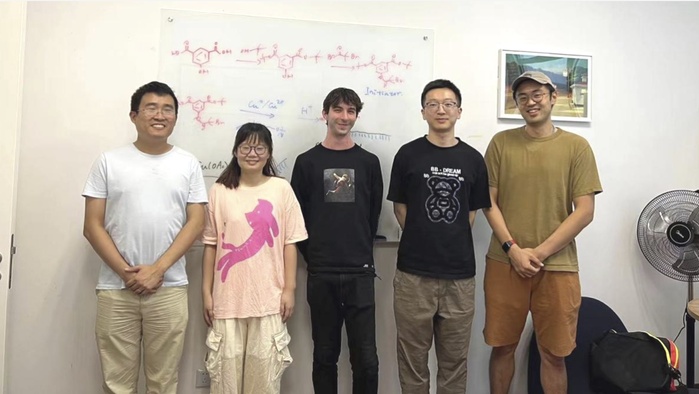 From left to right: Yan Jiajun, Xie Zhikun, Ilan Naor Eliezer, Cui Feichen, Qiao Bo
Since 2015, ShanghaiTech has provided research opportunities for undergraduates frompartner institutions, organized and coordinated by the Office of International Affairs. This is a non-credit program for international students who seek to perform summer research under the guidance of our professors (most of whom earned their Ph.D.s abroad). Students can choose a lab that matches their research interest in almost any one of our schools and institutes, with a chance to do experiments in world-class research facilities and on national science platforms. So far, more than 30 international students from Yale University, Cornell University, University of Chicago, UC Berkeley, and University of Oxford have participated in the ShanghaiTech Summer Lab Program.