On the morning of October 26, a delegation from Mahidol University led by President Banchong Mahaisavariya and Vice President Nopraenue Sajjarax Dhirathiti visited ShanghaiTech, accompanied by representatives of the Chinese Academy of Sciences (CAS) Innovation Cooperation Center Bangkok. Jiang Ge, Vice President of ShanghaiTech extended a warm welcome to them. Zhu Chouwen, Director of Shanghai Clinical Research and Trial Center (SCRTC), as well as representatives from BME, the Office of Research, and the Office of International Affairs attended the meeting.
The first stop of the Mahidol delegation's visit was Y Building where they learned about the history and achievements of SIAIS and the iHuman Institute, introduced by Yang Haitao, Executive Director of SIAIS and Xu Fei, Assistant Director of iHuman Institute, respectively. Zhu Chouwen also updated them on the construction progress of SCRTC. Afterwards, the guests visited the Brain and Intelligence Development Laboratory and Advanced MR Imaging Research Lab at BME, guided by the Founding Dean of BME Shen Dinggang. The delegation was impressed by the achievements ShanghaiTech has made in its first decade, especially its forward-looking strategy and rapid development in the fields of life sciences and biomedicine.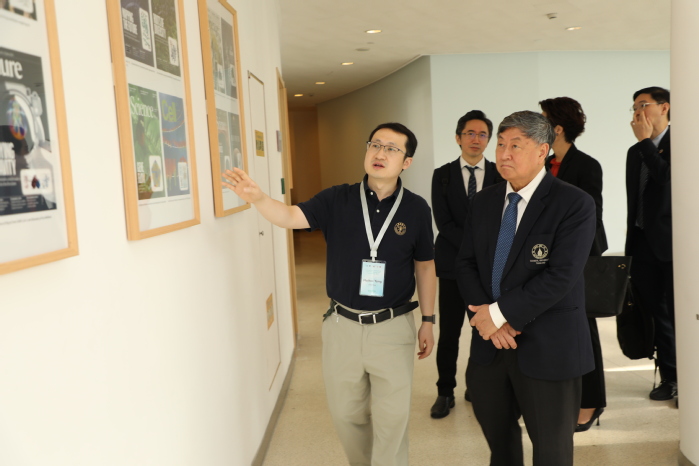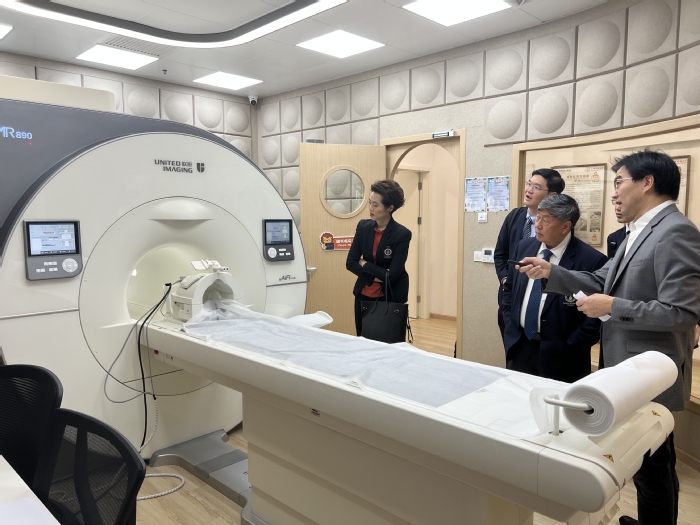 Visits to the Y Building and BME
After the campus tour, the guests were welcomed to a meeting in the Conference Center. Jiang Ge and Zhu Chouwen introduced ShanghaiTech and SCRTC, followed by Banchong's introduction to Mahidol University and its Institute for Technology and Innovation Management, Ramathibodi Hospital and Siriraj Hospital. Banchong said that Mahidol University is a comprehensive and multidisciplinary university focusing on medicine, which is similar to ShanghaiTech in the area of biomedical sciences. He is looking forward to the further cooperation between the two universities in student cultivation and scientific research. Jiang Ge said that since Mahidol University enjoys a long history of research and education in the field of medicine, the cooperation will bring mutual benefits to both sides as ShanghaiTech is constructing a new research hospital which is the SCRTC.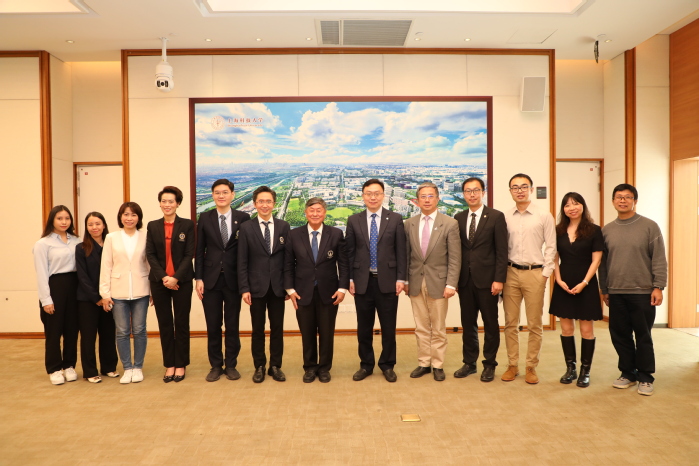 Seventh from the left: Banchong Mahaisavariya, Sixth from the right: Jiang Ge
Mahidol University had its origins in the establishment of Siriraj Hospital in 1888 by His Majesty King Chulalongkorn (Rama V), and the hospital's medical school is the oldest institution of higher learning in Thailand, granting its first medical degree in 1893. Later in 1969, Mahidol University was renamed with great honor by H.M. King Bhumibol Adulyadej, after his Royal Father, H.R.H Prince Mahidol of Songkla, who is widely known as the "Father of Modern Medicine and Public Health in Thailand". This diversified institution now offers top quality programs in numerous social and cultural disciplines, including the most doctoral programs of any institution in Thailand, yet has maintained its traditional excellence in medicine and the sciences.