Fang Yifan '23
Biology, SLST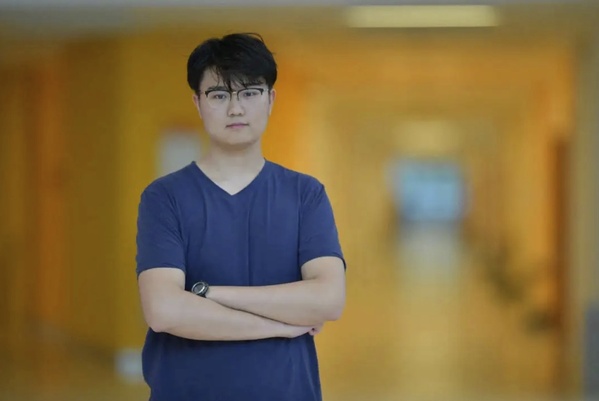 High school:
Yaohua High School, Tianjin
Further study:
Pursuing Ph.D. with full scholarship in the Graduate Field of Biochemistry, Molecular, and Cell Biology at Cornell University.
Academic honors:
1. Excellent Student Award of ShanghaiTech 2019-2020
2. Excellent Student Award of ShanghaiTech 2021-2022
Hobbies and interests:
Photography, traveling, literature, movies, art, history, philosophy
Graduation message:
To aim high and look far ahead—at least I need a plan.
A magical world
I will never forget the moment when I first observed the structure and motion of the "tentacled particles" in living cell imaging. This was an unexpected finding, and to my knowledge, I had not seen similar structures and movement patterns described in previous reports. It was a wonderful feeling, like the explorers who discovered new continents in the age of navigation, except that I was not standing at the edge of the map, but at the edge of human knowledge. Here is an analogy: If the producers of a game present their ideas and thoughts in the game through good plots and art, then, similarly, the "maker" of this world reflects its nature in this "game of the world" by the things we need to discover through scientific research.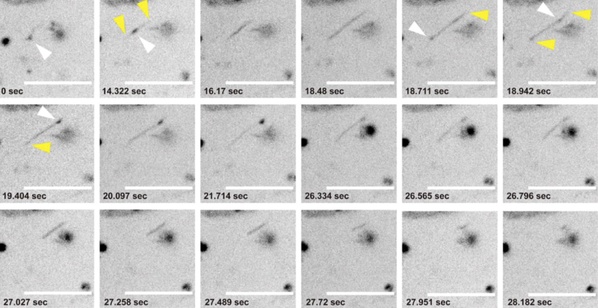 Movement pattern of tentacled particles. The white arrow points to the particle, and the yellow arrow points to the end of the tentacle.
This "game of the world" is like a puzzle-solving game that includes numerous puzzles in the field of life science, and I had some tools to participate in the game: chemical reagents, laser confocal microscopy, fluorescent dyes and fluorescent proteins, genetic tools that put together molecular biology components, antibodies, mass spectrometry, sequencing and bioinformatics analysis techniques. I used these tools to solve scientific problems, and each step of progress I made was like a small "checkpoint reward" for my curiosity. I also made some new discoveries that were beyond what humans had known, and then followed the clues to keep solving the puzzles. The process was just like playing a game with the "producer"—full of fun—and one day I would hope to uncover all its secrets.
Curiosity is essential to scientific research
The moment I first observed the network structure of cytoophibia under a Stimulated Emission Depletion (STED) super-resolution fluorescence microscope, I put my head in my hands, dilated my eyes, and marveled at the subtlety of its structure: "It makes sense, it all makes sense!" This answered my previously unsolved questions until I conducted the super-resolution imaging of living cells: Why did the fluorescence recovery rate of cytoophibia fall within this particular range? How to explain the fluorescence recovery mode? These questions were just two of many questions raised during my study at ShanghaiTech.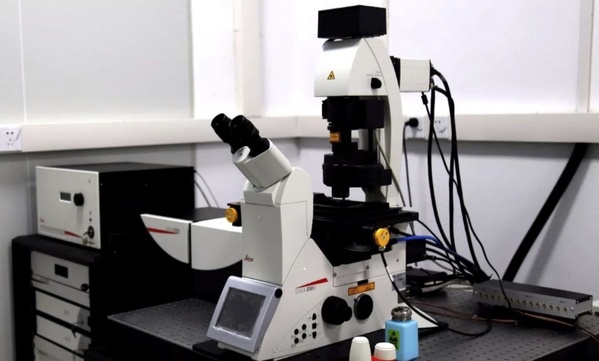 Photo of the Stimulated Emission Depletion (STED) super-resolution fluorescence microscope

The network structure of cytoophibia
The scientific research and explorations at ShanghaiTech have greatly satisfied my curiosity and made me tireless to search for scientific mysteries, to constantly overcome difficulties and to expand my knowledge boundary.
When I was in the middle school, I thought about becoming a scientist in the field of life sciences. As a 14-year-old teenager, I was full of imagination, and for a period of time, I kept thinking about the goal of my life. "If there is one thing worth fighting for in my life, what will it be? If I make a lot of money in the future, what will be the next thing? If I am rich enough, I won't know what to do, and I may feel empty. Is everything I do all for pleasure? Then I should do the happiest thing. So what is the happiest job?" After thinking for a long time, I came to believe that the satisfaction of curiosity, for example, by doing scientific research, would bring the happiness that I pursue. During the research process, I could personally acquire the freshest and the most cutting-edge knowledge. At the same time, the purest and the most authentic new knowledge could satisfy my greedy curiosity at the fastest speed. After that , I formed the habit of making plans, in order to find a high-level international scientific research platform, step by step.
In fact, the significance of scientific research is not only to satisfy individual curiosity, but also to transfer scientific and technological achievements to help more people and bring benefits to the society. My experience as a volunteer during the COVID-19 pandemic made me realize that current human knowledge was overwhelmed by diseases, and that my contribution as a student was very limited. "However, if my research results could one day help patients become freed of the pain of disease and restore health, it would be an immeasurable merit." This raised my thinking and I recalled the sentence that Prof. Hu Ji, Associate Professor in SLST, taught us when I was a first-year undergraduate student, "The pursuit of scientific research is to contribute to human health, and as long as we see patients being freed of pain, we feel that all the efforts are worthwhile." So my opinion of scientific research has gradually changed from just "interesting" to "useful".
A good student also needs a good instructor
It was the resources provided by ShanghaiTech that enabled me to obtain rich academic achievements. I would like to thank all the people at ShanghaiTech who gave me careful instructions.
Before entering the university, I had heard that Professor Liu Ji-Long in SLST is a professor with unique characteristics. He always dives into his own field of expertise rather than blindly pursuing hot spots, and is an earnest scientist. He actively uses new technical methods, to maintain aninnovative research style in line with the times. I remember that in the summer vacation of 2020, I planned to join Prof. Liu's group to get a taste of doing research. I wrote to him and, unexpectedly, he replied to me immediately inviting me to his laboratory for an interview. He gave me a detailed overview of the group and the progress of each research project, at our first meeting. After becoming a member of Prof. Liu's group, at certain points in time, he gave me valuable guiding suggestions on my research direction, experimental design, data analysis and paper writing. These suggestions encouraged me to move forward in my research, and helped a lot in my application for a doctoral program.
In addition to faculty members, I also want to thank my senior groupmate Zhang Ziheng, who was a good tutor and a friend. In the lab, topics we discussed were not only limited to the knowledge of basic experiments, but also to ideas regarding scientific research, unknown technologies, and novel problems. As a doctoral student, Zhang Ziheng was very busy with his work, but he still spared the time to teach me everything he knew and to explain it in detail. Other members of the research group and engineers from the Molecular Imaging Core Facility also gave me guidance, and discussed scientific problems with me. Looking back now, I have benefited a lot from the valuable lab experience in Prof. Liu's group, and the knowledge and experience I gained there were no less valuable than what I learned in classes.