On May 30, a delegation from the Forum for World Education (FWE) visited ShanghaiTech University, led by Cheng Yan Davis, Co-founder and President of FWE. The delegation was received by President Jiang Mianheng, Vice President Jiang Ge, and Vice Provost Yu Jingyi, and others.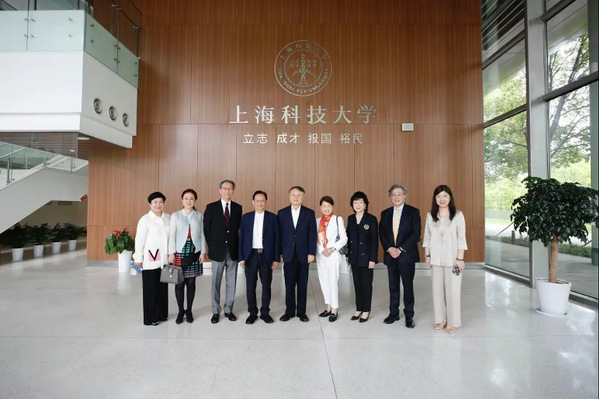 President Jiang extended a warm welcome to the delegation and introduced the development history and characteristics of ShanghaiTech, as well as its experience in cultivating innovative talents and promoting technology transfer. He expressed the hope that both sides could strengthen cooperation in the future. Before the meeting, Jiang Ge accompanied the guests to visit the Shanghai Synchrotron Radiation Facility and Soft X-ray Free Electron Laser Facility. They enjoyed the lively demonstrations and were impressed by the scientific achievements made in these cutting-edge facilities. The delegation also visited schools and institutes such as SIAIS, the iHuman Institute, BME, SEM, SCA, and learned about the construction plans for the Center for Future Medicine.
In the afternoon, the guests and ShanghaiTech spinoff leaders held an Entrepreneurship Seminar at ShanghaiTech SPACE (incubator). The founders/CEOs of CorrectSequence, MOFenerg, Stereye, DGene and Asiflyer Biotechnology briefly introduced the milestones, financing scale, and product highlights of their companies. Following that, the two sides shared their entrepreneurial experience and discussed potential partnership opportunities. Finally, the delegation visited SIST, where Yu Jingyi accompanied the tour and made introductions.
The FWE delegation brought together 25 industry luminaries including Edith Shih, Ani Kharajian, William Cheung, Li Ping, and Pan Jun, members of the Forum's Steering Committee, as well as Ping Tse, Founder of Sino Biopharmaceutical and Senior Vice Chairman of Charoen Pokphand Group (CP Group), Li Yi, Chairman of Innovation Times Group, and several FWE Young Leaders. This visit to ShanghaiTech not only deepened their understanding of the university but also established a bridge of communication between ShanghaiTech and international education and investment professionals.
The Forum for World Education (FWE) is a non-profit worldwide organization headquartered in Cambridge, Massachusetts, with operations in major cities throughout the world. Its mission is "to transform education in answer to the skills and knowledge requirements of current and future global society, its economic growth, societal progress and sustainability."