On January 19, two ShanghaiTech's research findings were selected among "China's Top 10 Advances in Life Sciences in 2022" as the list unveiled by the China Association for Science and Technology. The "world's first 'Perturb-Atlas' for deciphering gene function" achieved by the group of Professor Chi Tian from SLST was selected, putting ShanghaiTech's research achievements selected into the list for the fourth straight year.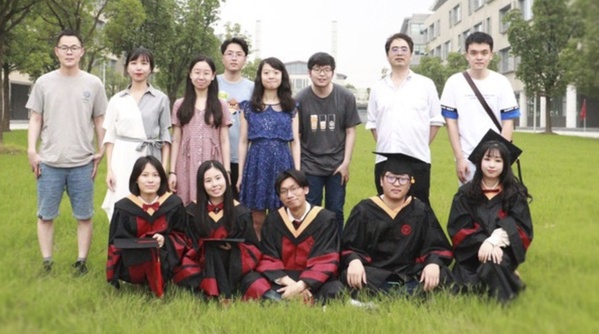 The group of Prof. Chi Tian.
Another selected advance is the "identification of heat resistance genes and their mechanisms in rice" achieved by ShanghaiTech Distinguished Adjunct Professor Lin Hongxuan's group, and relevant achievements were published in Science and Nature Plants. Dr. Zhang Hai, a ShanghaiTech Ph.D. graduate (the Class of 2022), is the sole first author of the Science paper and a coauthor of the Nature Plants paper.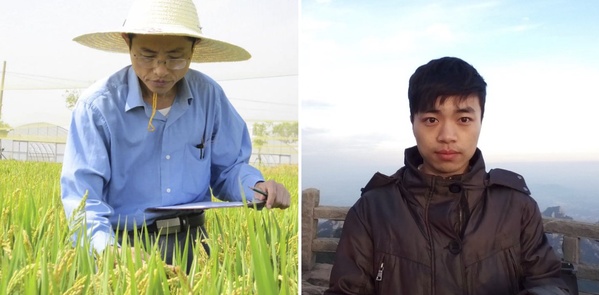 Prof. Lin Hongxuan (left) and Dr. Zhang Hai (right).
Map the "Perturb-Altas"
Although the human genome has been sequenced, its functionis still poorly understood, severely hampering disease diagnosis and treatment. Combining CRISPR and Cre-Lox technologies, Chi Tian's group spent eight years developing a unique approach termed iMAP (inducible Mosaic Animal for Perturbation), a "high-throughput, pan-tissue" technology that can increase the decoding speed of mouse genes by at least 100 times. The iMAP technology was used to rapidly decode the basic functions of 90 genes in 39 tissues in mice, thus constructing the world's first "Perturb-Atlas". This may leads to a comprehensive "Perturb-Atlas" covering all genes and tissues, as an essential world map for studying life sciences in the future.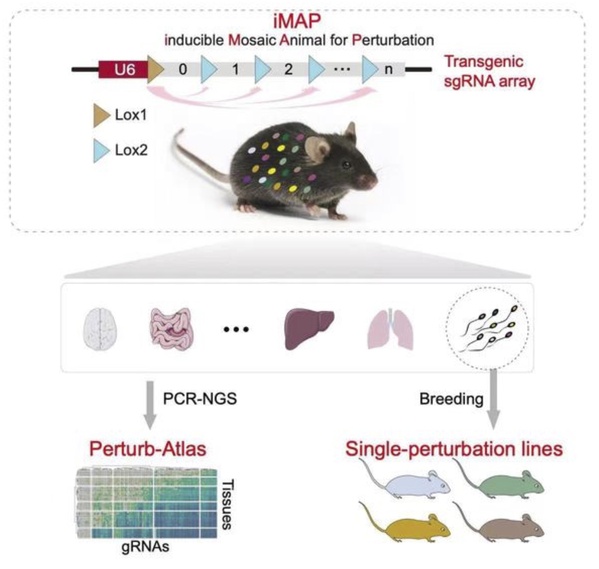 The mechanism of iMAP.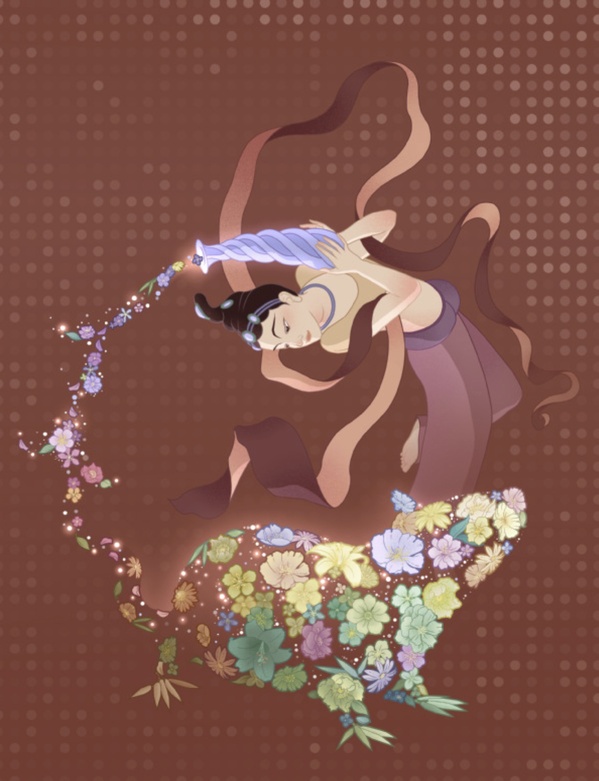 Dunhuang Fresco Edition of iMAP, where Feitian, vase (double helix) and flowers symbolize Cre, transgene and sgRNA respectively. Here the Cre releases sgRNA from the transgene, which in turn forms the mouse. The background picture (heat map) is the disturbance map.
With robust performance, simple operation, easy adaptation and a wide range of uses (including the discovery of drug targets and the optimization of rice varieties), iMAP has achieved breakthroughs in the field of gene decoding from zero to one. Relevant results were published in Cell, and the first authors are five Ph.D. students from SLST - Liu Bo, Jing Zhengyu, Zhang Xiaoming, Chen Yuxin, and Mao Shaoshuai. Prof. Chi Tian is the sole corresponding author.
In the previous lists of China's "Top 10 Advances in Life Sciences", ShanghaiTech has four research findings including "Revealing the target and mechanism of anti-tuberculosis new drugs and discovery of the potential new drugs", "Structure of Mpro from SARS-CoV-2 and discovery of its inhibitors", "Discovery of the brain-spleen neural connection of behavioral regulation of antibody immunity", and "Mechanism of SARS-CoV-2 escaping from host innate immunity and antiviral drugs".