On February 14, ShanghaiTech, for the first time, entered the list of China's World-Class Universities Project (the second-round list of universities and disciplines included in this project was jointly released by the Ministry of Education, the Ministry of Finance, and the National Development and Reform Commission). ShanghaiTech's Materials Science and Engineering was listed as the discipline to be developed as a first-class discipline.
This project is an education development initiative launched by the Ministry of Education of China, aimed at increasing the global recognition of China's university system, and to develop world-class universities and first-class disciplines. This project was first announced in November 2015 and the first-round list was released in September 2017. After the release of each round list, the listed universities have about five years to develop relevant disciplines and will be evaluated before the next round.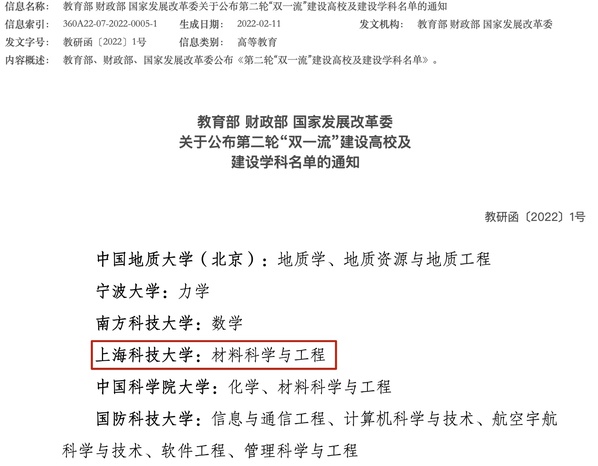 Science and education integration boosts ShanghaiTech's rapid development from a high starting point
The model employed to integrate science and education is ShanghaiTech's distinctive feature. The university and different institutes of CAS carry out mutual appointments for researchers and professors, students' co-education, sharing of research resources, joint construction of large-scale scientific facilities, and joint research on major topics. The university also takes full advantage of its location, deeply integrating into the construction of Shanghai Science and Technology Innovation Center, and Zhangjiang Comprehensive National Science Center, and carries out in-depth industry-university-research cooperation with many high-tech enterprises and research institutions. In the last five years, ShanghaiTech has published 36 papers in Nature, Cell and Science as the first or main completion unit. Since 2018, the university's patent licensing contracts have totaled more than 6 billion yuan, and 22 science-based startups were incubated, with early-stage venture financing amounting to nearly 1 billion yuan.
Discipline construction enters the fast lane with the task of serving national strategic needs
ShanghaiTech has always followed the notions of "small but precise" and "characteristic" to build its disciplines, and serve the national strategic needs with the focus on new materials, new energy, human health, artificial intelligence, integrated circuits and other key areas.
The discipline of Material Science and Engineering takes advantage of ShanghaiTech's interdisciplinary resources. As a core construction discipline of the university, it has the distinctive characteristics of close integration of teaching and research with the application of photonic large scientific facilities, and has produced a number of influential scientific research results in the fields of functional materials, biomolecular materials and topological quantum materials. In the new round of development, ShanghaiTech will seize the opportunities brought by the national research platforms represented by the large-scale scientific facilities deployed in Zhangjiang area. It will thereby develop the discipline, harvest the achievements in important frontier directions, and make contributions in the fields of energy, information and health, thus cultivating high-level and international innovation talents who are engaged in frontier basic research and technology development of national strategic emerging industries.
Historic opportunity for ShanghaiTech
The discipline of Material Science and Engineering has formed a faculty of more than 80 full-time professors, led by internationally renowned experts, with the majority being outstanding young and middle-aged faculty. They have already shown significant academic influence in related fields. The university has actively expanded and continuously deepened exchanges and cooperation with world-class universities and research institutions, and established long-term and stable cooperative relationships in student training, collaborative scientific research, academic exchanges, curriculum sharing, and faculty training. In recent years, relying on the construction of national-level large-scale scientific facilities such as the Hard X-ray Free Electron Laser facility, the high-end international cooperation network has been further expanded.
The second round of World-Class construction has brought a historic opportunity for ShanghaiTech to innovate and develop from a higher starting point. The university will adhere to its original intention and mission, and maintain a steady development to implement the requirement given by the Ministry of Education, the Ministry of Finance, and the National Development and Reform Commission. We can expect a more competitive and influential ShanghaiTech to evolve.
The official document (in Chinese, ShanghaiTech is listed on the last page): http://www.moe.gov.cn/srcsite/A22/s7065/202202/W020220214318455516037.pdf