On June 1, 2020, ShanghaiTech University and the Publications Division of the American Chemical Society (ACS) announced their first publishing collaboration to create a new journal for the worldwide research community - Accounts of Materials Research. This important journal launch marks the first global publishing partnership for the two organizations, supporting both their missions and their shared goals.
"We are very happy to create Accounts of Materials Research with ACS Publications. Its unique style and high publication standard will serve the needs of the fast growing global materials science community well. This journal is a good fit for both publishing partners," said Professor Yin Jie, Provost and Vice President of ShanghaiTech University. "The goal of Accounts of Materials Research is perfectly aligned with our school's mission, we are very excited to host AMR with ACS Publications." added Professor Liu Zhi, Vice Dean of the School of Physical Science and Technology. Accounts of Materials Research will present short, concise and critical articles offering overviews of basic research and applications in all areas of materials science and engineering. These short reviews will focus on research from the author's own laboratory and are designed to teach the reader about a research project. Accounts of Materials Research will also publish non-peer reviewed commentaries that give an informed opinion on a current research problem. Accounts of Materials Research will join the existing ACS' portfolio of Accounts of Chemical Research and Chemical Reviews as the foundation of the new high impact review journal platform.

President of ACS Publications and Vice President of ShanghaiTech University
"Accounts of Materials Research will provide the community a much-needed resource that will serve scientists across the fields of chemistry as they explore research projects," said Sarah Tegen, Ph.D., senior vice president, ACS Publications Division. "By partnering with ShanghaiTech to deliver this journal, we're looking forward to creating an international conversation around these important research topics.
"We are delighted to embark upon this global partnership with ShanghaiTech University and hope this will be the first of many fruitful joint endeavors" added James Milne, Ph.D., president, ACS Publications.
The journal will be led by editor-in-chief Prof. Huang Jiaxing, Professor of Materials Science and Engineering at Northwestern University. There, the Huang Jiaxing group employs chemical principles and tools to advance materials processing and manufacturing, and uses the new materials developed as a platform to address problems in other areas of science, engineering, and in society.
I look forward to working with the board members and publishing partners to make Accounts of Materials Research a home journal to serve materials researchers and the diverse field of materials. Quote from Huang Jiaxing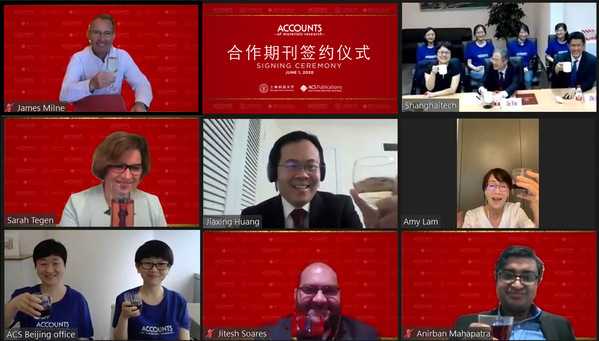 Online signing ceremony
Accounts of Materials Research will begin to accept submissions in the Summer of 2020. All papers published in its first year will be free-to-read.
The American Chemical Society (ACS) is a nonprofit organization chartered by the U.S. Congress. ACS' mission is to advance the broader chemistry enterprise and its practitioners for the benefit of Earth and its people. The Society is a global leader in providing access to chemistry-related information and research through its multiple research solutions, peer-reviewed journals, scientific conferences, eBooks and weekly news periodical Chemical & Engineering News.