For the first time, ShanghaiTech University held its Commencement mainly for online spectators, due to the new wave of Covid-19 which started spreading in Shanghai in mid-March and was just abated in June. On the morning of June 26, about 900 graduates of the Class of 2022, faculty and staff, families, alumni, and friends watched the live Commencement remotely. The on-site Commencement was held at the Conference Center, attended by the university leaders, leaders from schools, institutes and some departments, and graduates and faculty representatives.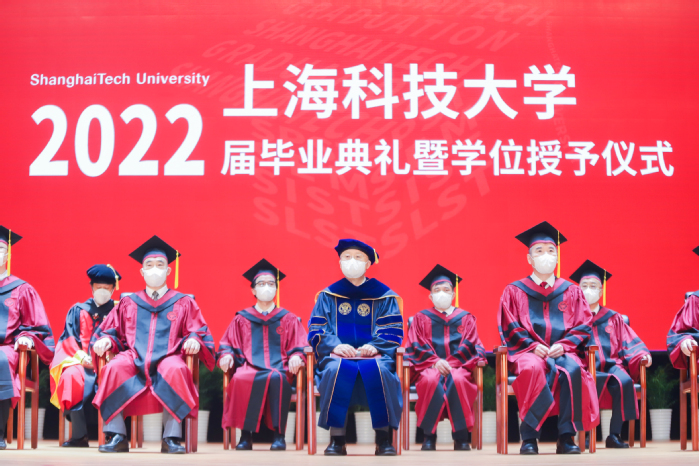 The Commencement officially started with the national anthem at 9 a.m., and was hosted by Executive Vice President & Provost Yin Jie. The first session began with Yin Jie announcing the name list of 10 students winning the 2022 ShanghaiTech President's Award, the highest honor at ShanghaiTech. President Jiang Mianheng conferred the certificates to the 7 students who attended in person, while the remaining 3 students who could not come in person were conferred virtually, in a simulation animation specially designed for this year's Commencement. Yin Jie also announced the name list of 63 students winning the Graduate Excellence Award of Shanghai City, some of whom were conferred the Award of Beijing City because their diploma was conferred by the University of Chinese Academy of Sciences.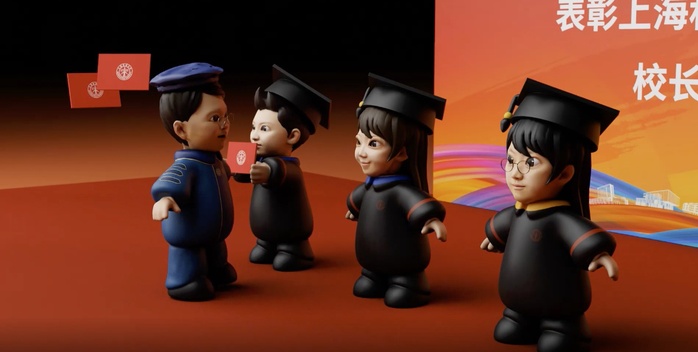 Conferred for President's Award 'in the cloud'
Following this, the representative of the graduating undergraduates, and winner of the President's Award, Zhang Longwen from SIST delivered his graduation speech. He sincerely thanked the university for providing students with valuable opportunities and challenges, encouraging students to continuously break through, explore the unknown, innovate, start their own businesses, and not be afraid of the challenges of the unknown. My original plan was to go abroad for my master study, but the sudden pandemic that happened in March trapped me and changed the trajectory of my life. I finally chose to continue my master study at ShanghaiTech to meet the unexpected new challenges. Even though this was totally outside my expectations, I will continue to break through myself.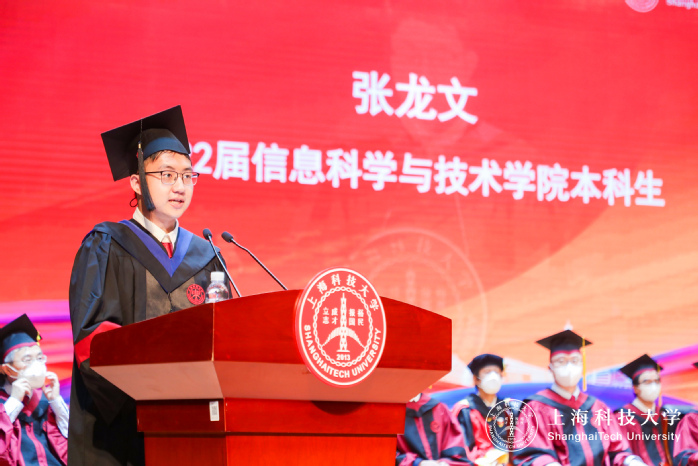 The representative of graduate students, and winner of the President's Award, SLST Zhang Hai shared his scientific research experience in his address. He spent 7 years researching more than 40,000 genetic loci in rice leading to the discovery of a locus with thermotolerance. With this discovery, the yield of rice under extreme high temperature could be increased by more than 2.5 times, having a high application value. He expressed his wish to ShanghaiTech students that in the future, they will continue to make breakthroughs and achievements with indomitable perseverance, courage and faith.
As a faculty representative, SPST Assistant Professor Liu Wei delivered her speech encouraging all the graduates to be optimistic. "I am a professor in materials science, so I hope all of you have the capability to be excellent materials with good mechanical properties so you can endure much tougher environments and pressures after graduation. I also hope you are made of stable material to keep you moving forward in the things you're passionate about. Finally, I don't wish you to be perfectly flawless. Materials with imperfections are the most balanced materials in our life."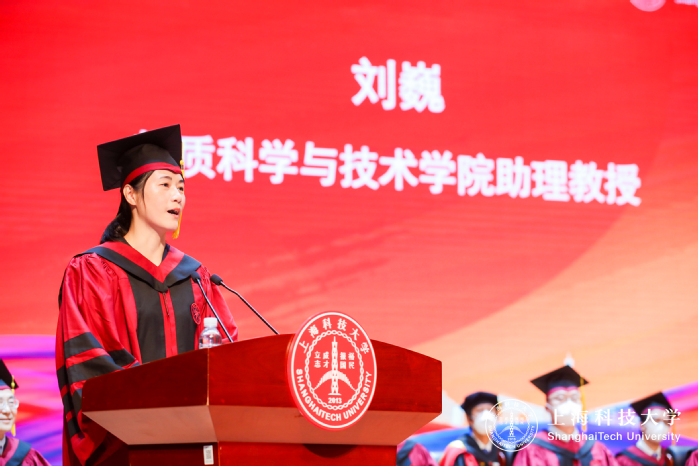 After the representatives gave their speeches, ShanghaiTech President Jiang Mianheng delivered his Commencement address on "younger generation's virtues", reflecting his expectation for graduates to be smart, innovative, altruistic and just. He said the Class of 2022 was very special in that they suffered the Covid-19 impacts twice, both in 2020 and 2022, as well as having witnessed ShanghaiTech being selected for development at the national level. The lockdown in mid-March was also an additional exam for this year's grads, to test their virtues of responsibility, self-discipline and dedication. "Every word in the mission statement of ShanghaiTech is not just a word. ShanghaiTech is committed to provide three 'classrooms' for every student," said Jiang Mianheng. "A campus classroom to provide knowledge and innovation. A social classroom to cultivate concerns for family and country. A spirit classroom to enhance and forge moral qualities." He also encouraged the graduates to maintain infinite curiosity of mind, exploring the unknown, insisting on the truth, and being pioneers. "A qualified person should be strong in will, powerful to take up his duty, and honest in spirit. Be a qualified young generation with inner virtues first before you start to make greater achievements."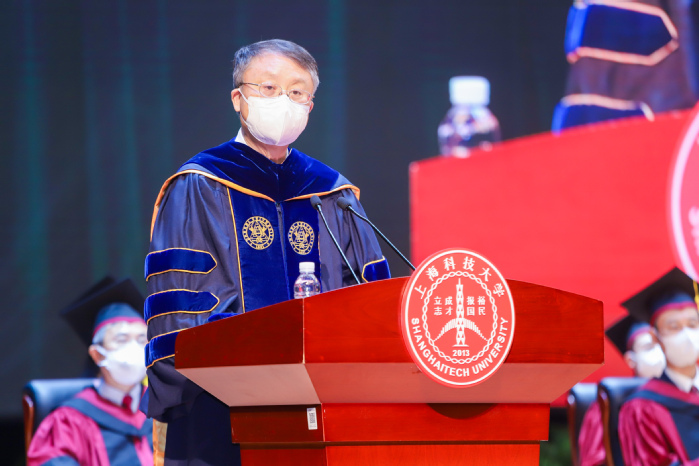 This year, a special guest, taikonaut Nie Haisheng, major general of the PLA Strategic Support Force, was invited to give them graduation wishes by video. He encouraged the graduates to have ambitions, to show their passion for taking responsibility, and to keep home and country feelings in mind, advice also consistent with President Jiang's speech.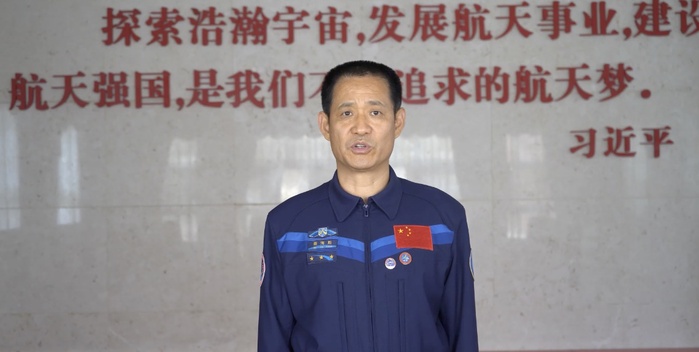 As at June 26, among the 416 undergraduate grads of the Class of 2022, about 22% had received graduate admission offers from overseas universities, of which 63% were from world top-50 universities. About 57% chose to continue their studies domestically and 9% chose to start their job careers.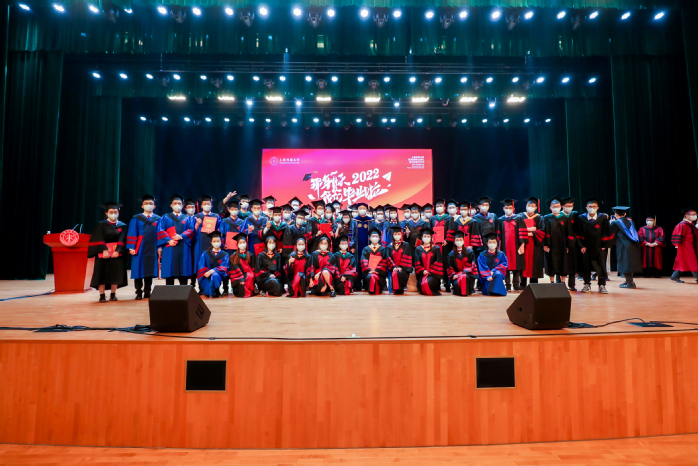 Wishing all 2022 graduates a bright and successful future!