On August 4th, Professor Steve Mann and Mr. Norman Pearlstine, former CCO of Time Inc., visited ShanghaiTech accompanied by representatives from Shanghai Jiading Advanced Technology Innovation & Business Incubator. ShanghaiTech President Jiang Mianheng, Vice Provost Jiang Ge and School of Information Science and Technology (SIST) distinguished Professor-in-Residence Yang Yang met the delegates, together with Mr. Xuemin, Chairman of the Board & CEO, Shanghai United Imaging Healthcare, and Mr. Chen Feili, Vice Chief Engineer of Shanghai Alliance Investment Ltd.
President Jiang extended a warm welcome to the delegates and introduced the vision, mission and the latest progress of ShanghaiTech. Professor Steve Mann demonstrated his projects on wearable computing, intelligent signal processing and intelligent imaging processing and explained his ideas about Humanistic Intelligence (HI) and Artificial Intelligence (AI) with the help of coordinate system. Compared with AI, HI focuses on the reciprocal relationship between computer and human instead of treating the two as different entities that interact. President Jiang invited Professor Steve Mann to deliver courses to ShanghaiTech students in the future.
After the meeting, Professor Steve Mann visited the School of Creative Arts and the SIST VR Lab led by Professor Yu Jingyi. He experienced 360° Aerial Panoramas and showed great interest in VR-3D imaging.
Mann is a tenured full professor at the Department of Electrical and Computer Engineering, with cross-appointments to the Faculty of Arts and Sciences, and Faculty of Forestry, at the University of Toronto. He holds a PhD in Media Arts (1997) from MIT and a BSc, BEng and MEng from McMaster University in 1987, 1989 and 1992, respectively. While at MIT, Steve Mann founded the Wearable Computing group in the Media Lab. He has been referred to as the "father of wearable computing" and in 2004 he was named the recipient of the 2004 Leonardo Award for Excellence.
Mann invented the first wearable computer, smartwatch videophone, HDR (High Dynamic Range) Imaging and the EyeTap Digital Eye Glass.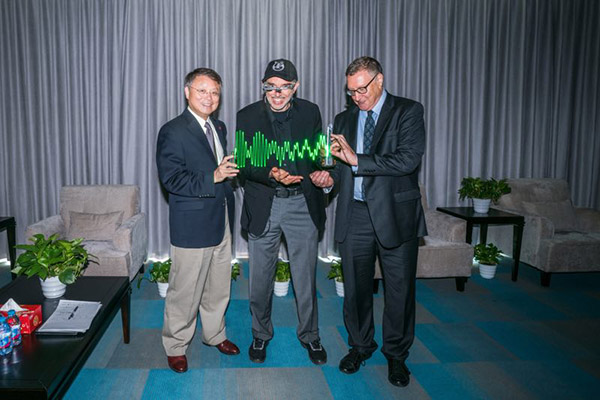 Professor Steve Mann showing visible electromagnetic radio waves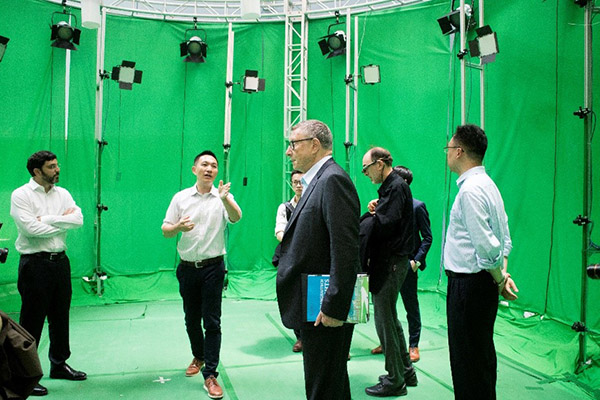 Professor Steve Mann in SIST VR Lab