In late April, ShanghaiTech President Jiang Mianheng visited a number of prestigious American universities and research institutions, including CalTech, Stanford University, UC Berkeley, Homel Institute of University of Minnesota, Mayo Clinic, and Princeton University and its Institute for Advanced Study. He met with administrators, researchers, professors and had fruitful discussions with them on student programs, research development and faculty exchange.
At Caltech, President Jiang had meetings with Professor of Computing and Mathematical Sciences Mathieu Desbrun, Professor of Applied and Computational Mathematics and American Academy of Art and Sciences Fellow Hou Yizhao, and Professor of Chemistry in the Division of Chemistry and Chemical Engineering Peter Dervan, who listened to an introduction of ShanghaiTech and Zhangjiang Comprehensive National Science Center with great interest. The discussion centered on the outlook of information science, life science and mathematics and faculty development. Three professors presented their research works and hopes to collaborate with ShanghaiTech faculty.
At Stanford University, President Jiang met with2014 NobelLaureatein ChemistryWilliam Moerner, former Secretary of Energy and 1997 Nobel Laureate in Physics Professor Steve Chu, Mathematics Professor Li Jun, Physical Sciences Professor Shen Zhixun and other American scientists of Chinese origin. The scientists introduced their respective research areas and gave constructive advice on ShanghaiTech's development. President Jiang invited the scientists to do research at ShanghaiTech.
At UC Berkeley, President Jiang met with Associate Provost Tsu-Jae King Liu, Associate Dean of College of Engineering Per Peterson, Dean of College of Chemistry Professor Douglas Clark, ShanghaiTech SPST Founding Dean & UCB Professor Yang Peidong and EE &CS Professor Yu Bing. President Jiang expressed appreciation to the College of Engineering for its support in student exchanges and young faculty training and hoped to expand the BeSTEC program to other schools. Jiang discussed potential programs with the College of Chemistry and talked about mathematical education and research with Professor Yu Bing.
At Homel Institute, President Jiang met with Executive Director Dong Zijian, Former Executive Director of Mayo Institute Glenn Forbes, Chairman of Homel Foundation Gary Ray, and Mayor of Austin Tom Stiehm. President Jiang learned about the history and success story of the Institute and discussed cooperation opportunities.
At Mayo Institute, President Jiang met with President & CEO John Noseworthy and directors of five institutes. Dr. Noseworthy was very interested in developing cooperation with ShanghaiTech.
At Institute for Advanced Studies of Princeton, President Jiang met with Former Director of the institute & Wolf Prize Awardee Phillip Griffiths, and National Academy of Sciences member Professor Richard Taylor. The discussion focused mainly on trends in mathematics education and research and President Jing solicited their suggestions on developing the mathematics discipline at ShanghaiTech. President Jiang also met with Professor of Computer Science Li Kai and other professors of Chinese origin and invited them to visit ShanghaiTech.
President Jiang's visit further strengthened ShanghaiTech's ties with top American universities and research institutions, and brought the university's global profile to a new level.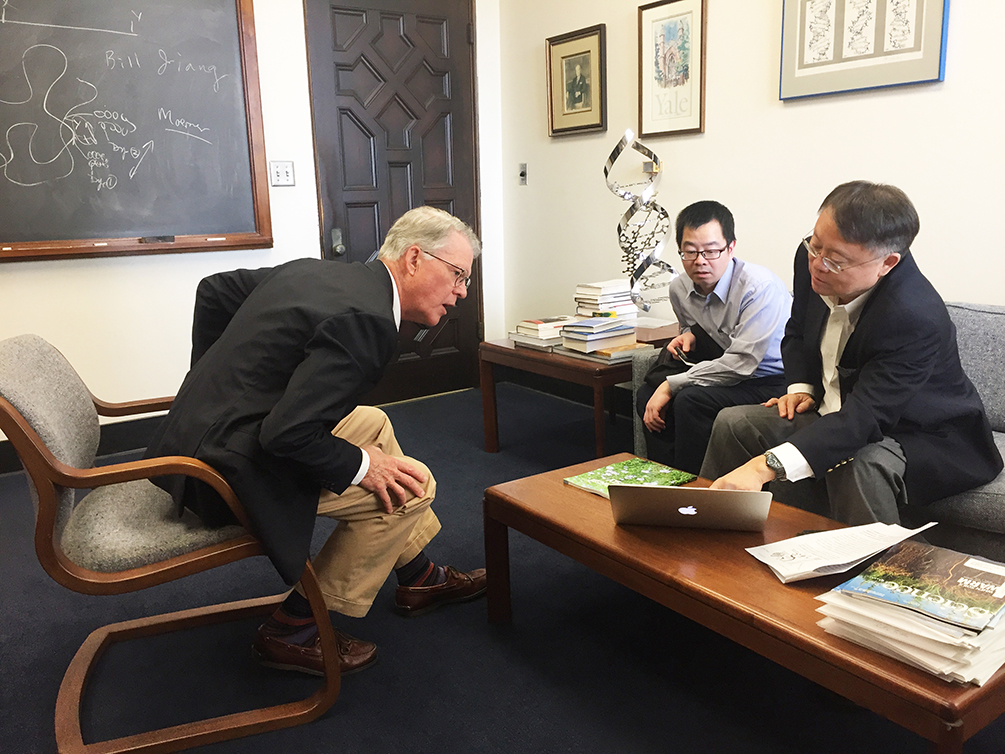 President Jiang and Caltech Chemistry Professor Peter Dervan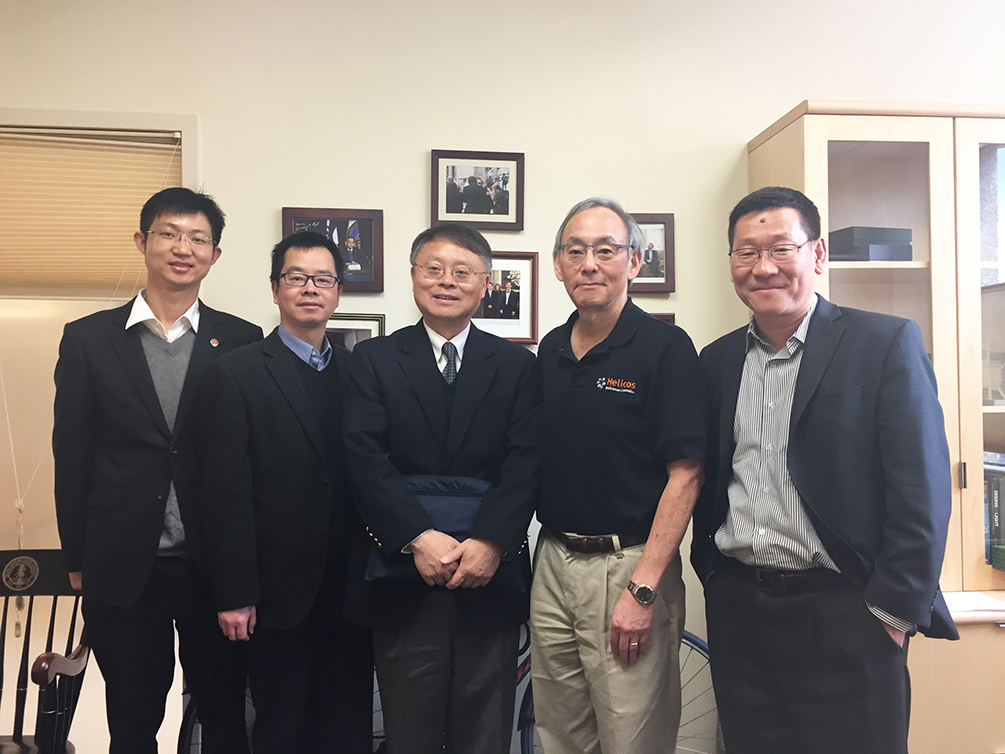 ShanghaiTech delegation with former Secretary of Energy 1997 Nobel Laureate Professor Steve Chu and Stanford Physical Sciences Professor Shen Zhixun.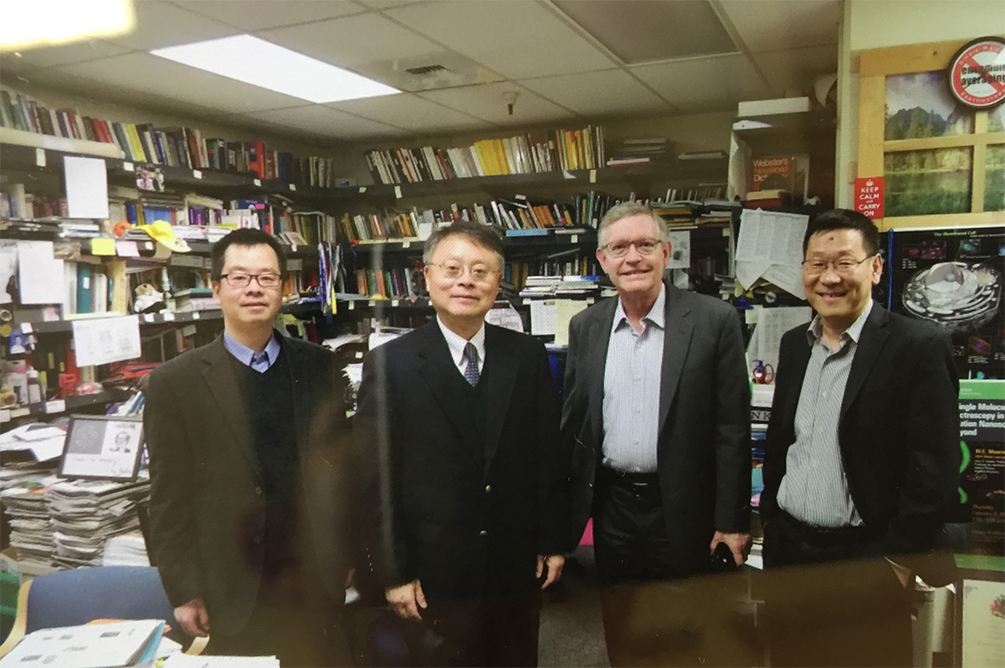 Visiting 2014 Nobel Laureate Professor William E. Moerner at Stanford University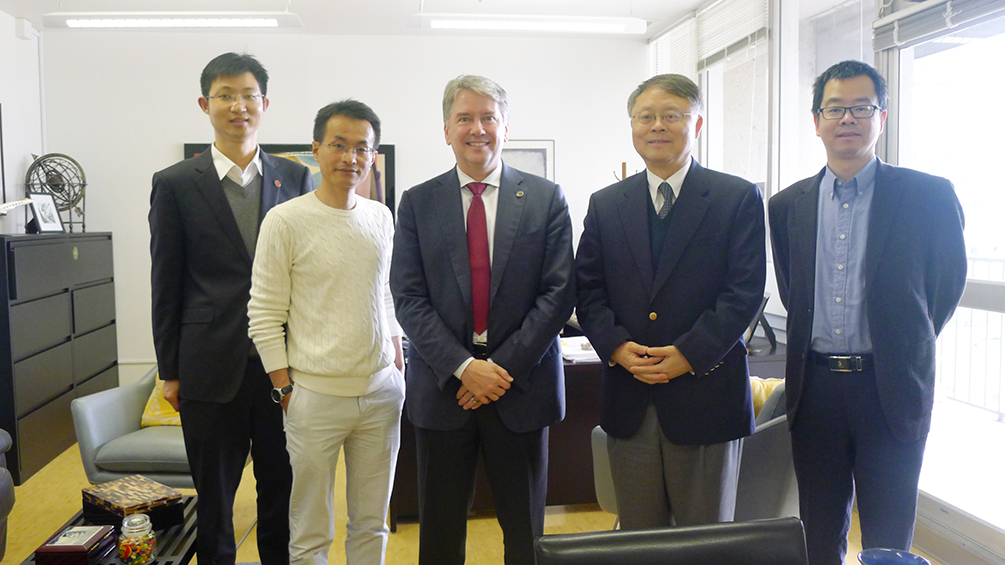 President Jiang visiting with UC Berkeley College of Chemistry Dean Douglas Clark and ShanghaiTech SPST Founding Dean and UCB Professor Yang Peidong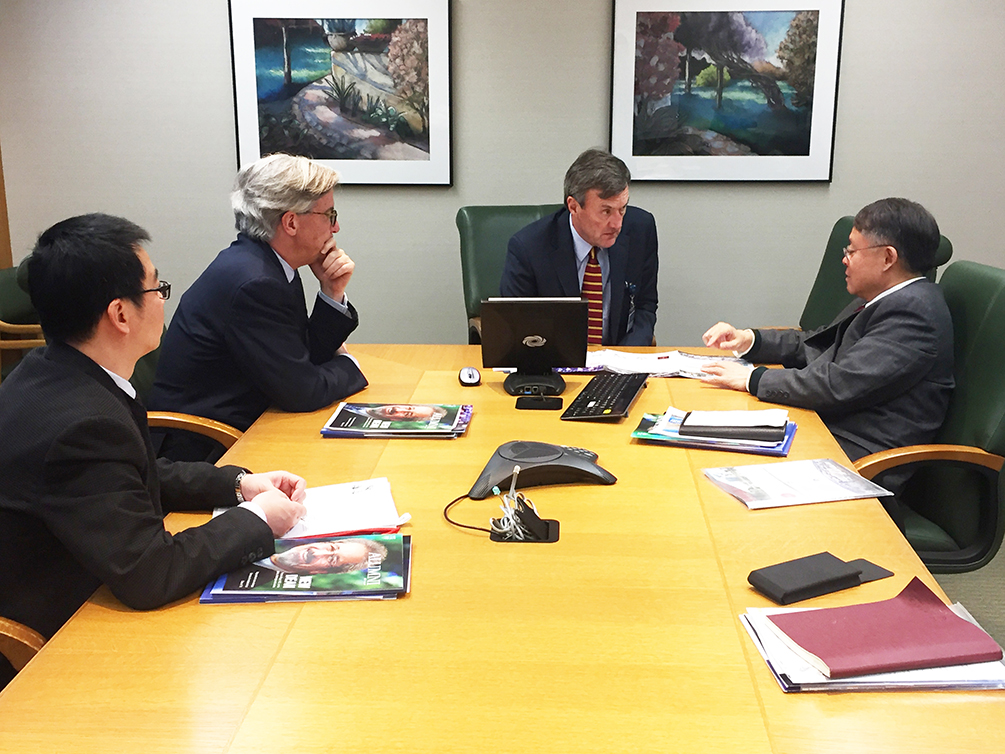 President Jiang meeting with Mayo Institute CEO John Noseworthy and Brookings Institution Chairman of the Board of Trustees John Thornton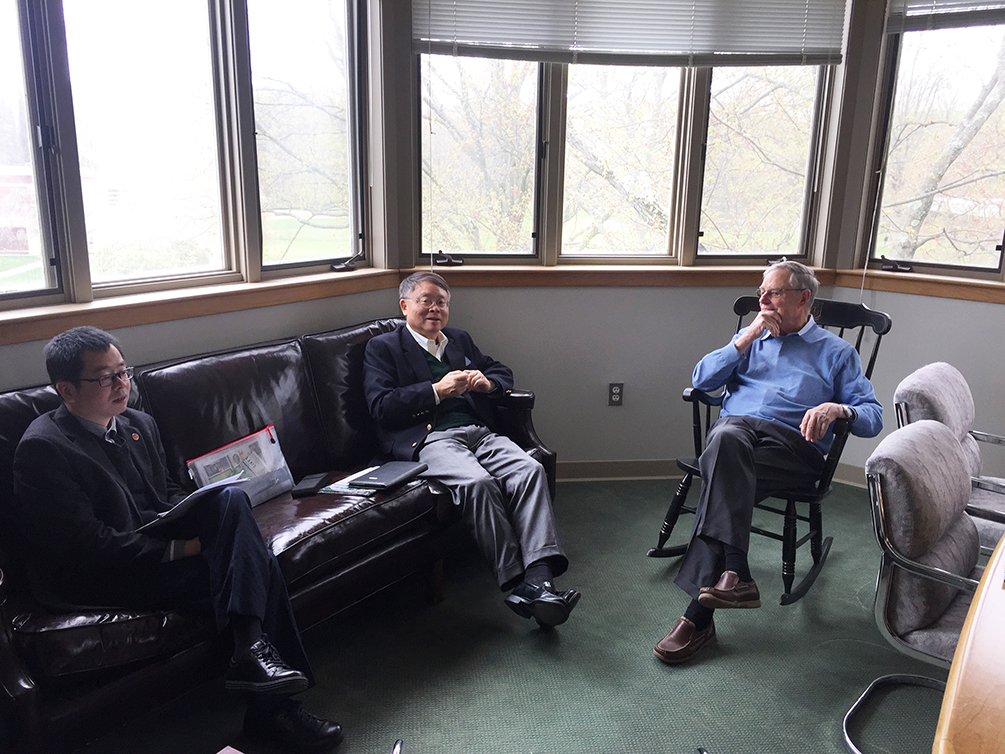 President Jiang with Professor Phillip Griffiths, Former Director of the Institute for Advanced Study at Princeton University & Wolf Prize Awardee
ShanghaiTech Delegation meeting with Chinese professors at Princeton University