From November 11th to 13th, ShanghaiTech University invited Philadelphia Orchestra and Shanghai Philharmonic Orchestra to carry out a three-day event to bring orchestra music onto campus. Leaders, guests and artists from the two world-renowned orchestras had a comprehensive dialogue with teachers and students from ShanghaiTech. Not only did they present an elegant chamber music concert, but had lots of interesting discussions about science and art with teachers and students. During the activities, ShanghaiTech campus was immersed in an atmosphere of music and art.

Guests from Philadelphia Orchestra and Shanghai Philharmonic Orchestra arrived on campus on November 11th. A solemn welcome ceremony was held at the Auditorium, YIN Jie, Vice President and Provost of ShanghaiTech University, welcomed everyone. Philadelphia Orchestra President and CEO Matias Tarnopolsky introduced Philadelphia Orchestra's glorious history and its international cooperations and introduced four outstanding musicians who would perform on campus: Principal Cellist Hai-Ye Ni, Associate Principle Violinist Paul Roby, Violinist Mei-ching Huang and Violist Meng Wang. Shanghai Philharmonic Orchestra director SUN Hong discussed SPO's newest developments, and its cooperation with Philadelphia Orchestra and other world-renowned organizations. Violinist LIU He, Violinist XU Peiwei, Violist ZHANG Chenran, Cellist CHEN Cong and Principle Flutist FU Zu were the musician representatives of Shanghai Philharmonic Orchestra at the concert. After that, documentary film 'Gorgeous Symphony beyond Time and Space' was shown, depicting the first Chinese New Year Concert presented by Chinese and American orchestras together, and promoted the themes of music as an international language without borders, which gave the audience more understanding about the two orchestras and music in general.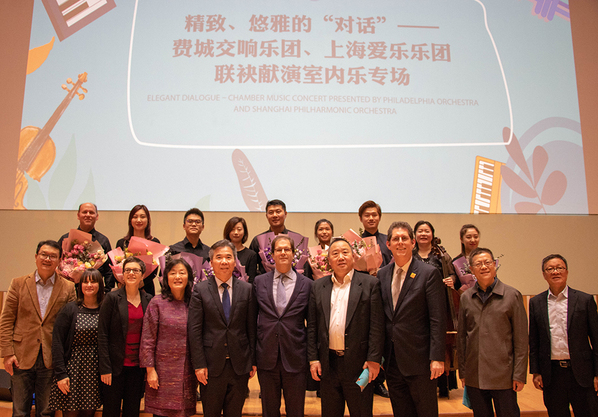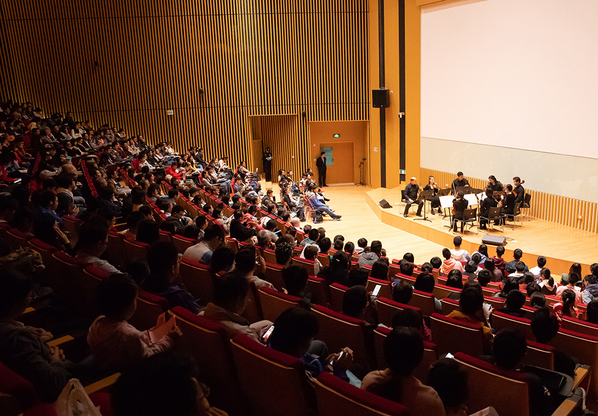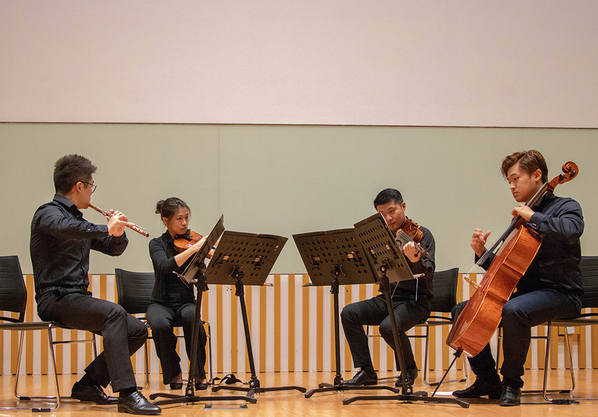 On the evening of November 12th, performers from Philadelphia Orchestra directed the ShanghaiTech Student Orchestra; they had friendly dialogues with students and even performed with students. At noon of November 13th, musicians from Philadelphia Orchestra and Shanghai Philharmonic Orchestra shared their growing-up experiences with students in School of Creative and Art's screening room. The audience asked many questions including how artists communicate with scientists. When asked about innovating traditional music, Philadelphia Orchestra Director and CEO Matias Tarnopolsky answered that they hope to cooperate with more international partners like ShanghaiTech University, and always use collaboration to ask, learn and innovate.
Although many teachers and students had already watched the open rehearsal on 12th and 13th, the chamber concert-----'an elegant dialogue' presented by Philadelphia Orchestra and Shanghai Philharmonic Orchestra on the evening on 13th still attracted nearly six hundred people in the audience, a full house. ZHU Zhiyuan, Vice President of ShanghaiTech University; JIANG Ge, Vice Provost of ShanghaiTech University; YANG Yang, Executive Dean of School of Creativity and Art; WANG Shouzhi, Vice Dean of School of Creative and Art and other leaders of schools; TENG Junjie, Chief Supervisor of SMG and Vice Chairman of Shanghai Federation of Literary and Art Circles; and guests from Bio Forum of ShanghaiTech University attended the concert. Musicians performed classics of Mozart, Beethoven and Mendelssohn, and the famous program 'Eternal Friendship' served as the encore, adapted by Ding Zhinuo & Zang Dongsheng to express their wish for friendship between ShanghaiTech University, Philadelphia Orchestra and Shanghai Philharmonic Orchestra. The audience gave them warm applause.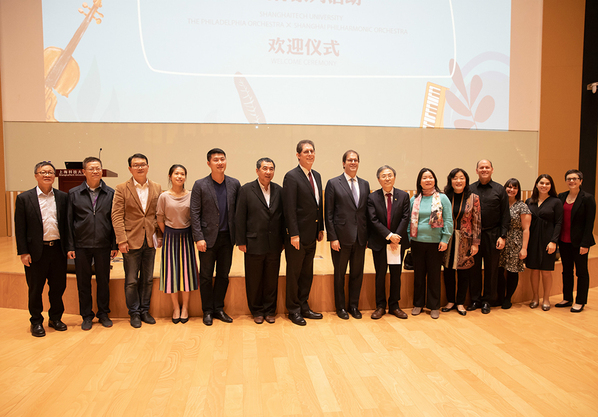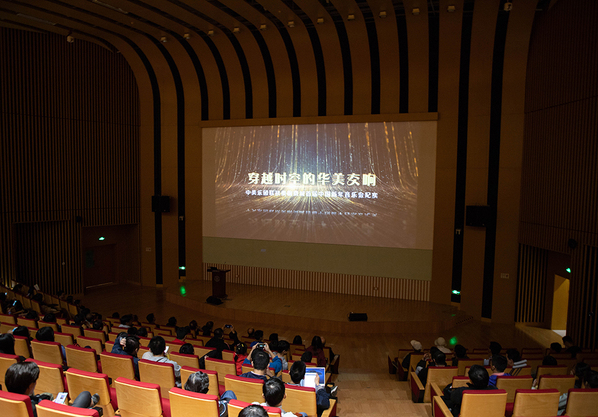 The Philadelphia Orchestra is one of the preeminent orchestras in the world, renowned for its distinctive sound, its keen ability to capture the hearts and imaginations of audiences, and legacy of imagination and innovation on and off the concert stage. It has extraordinarily deep friendship with China as its first visit to China in 1973"broke the ice" between art circles of China and America.
The Shanghai Philharmonic Orchestra, now one of the best orchestras in China, pays a great deal of attention to the improvement of artistic taste and skill and has been involved in collaborations with quite a few renowned musicians both from home and abroad. The Shanghai Philharmonic Orchestra not only pays much attention to the composition of Chinese music, especially for symphony works, but also has attended many international music festivals and activities and won wide praise. Dedicated to symphony promotion, the Shanghai Philharmonic Orchestra has organized a variety of activities including neighborhood concerts and school concerts.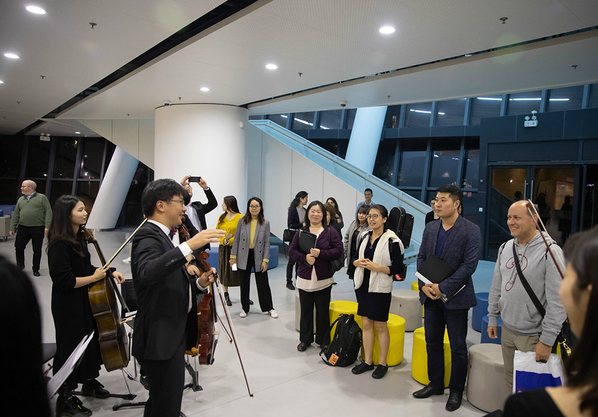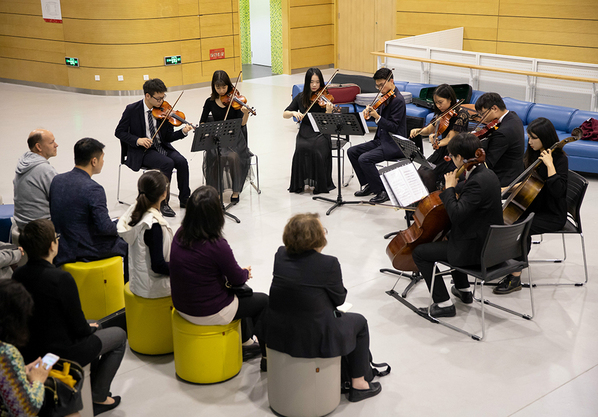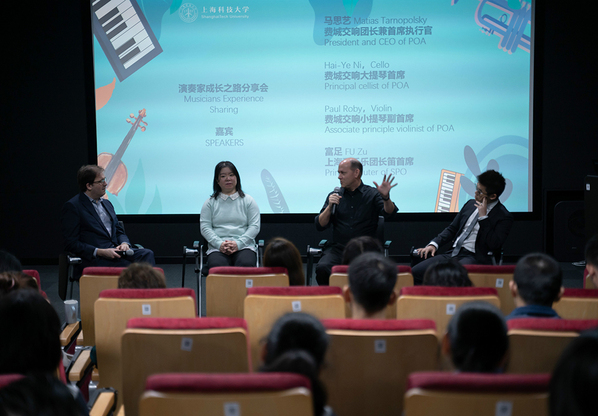 ShanghaiTech University has signed a tripartite agreement with the Philadelphia Orchestra and the Shanghai Philharmonic Orchestra this year, formalizing a new strategic partnership that will strengthen communication across cultures and disciplines and boost the integration between science and arts. This event series on campus was the official launch of the agreement. Shanghai Tech University will invite the Philadelphia Orchestra and the Shanghai Philharmonic Orchestra to carry out more events in the near future, not only enriching the spiritual life of teachers and students, but also exploring potential possibilities between the science and art.