In early July, just as many ShanghaiTech students were getting ready to leave campus for their Social Engagement Programs or Industry Engagement Programs, a small group of students arrived on campus, ready for a new experience. These were ShanghaiTech's Summer Research Program students, who arrived from US universities to gain lab experience and jump into Chinese culture for the summer. The Summer Research Program Program at ShanghaiTech is an ideal study abroad experience for some, explained UChicago student Eli Harter, because it is not always easy for STEM students to find suitable study abroad experience that fit their schedules.
When the six students, rising juniors from Cornell, University of Chicago, and University of Illinois at Urbana-Champaign arrived, they had no idea what to expect. While for UIUC student Yin Xiran, the experience was a way to get closer to home for the summer (she is a native of Hangzhou), the rest of the students didn't speak much Chinese and were dropped into a totally new experience. Cornell student Jenny Cao's past summer internships had been much closer to her New Jersey home. "I felt like I never really left home. This feels like an opportunity to go around the world and be as far away as possible."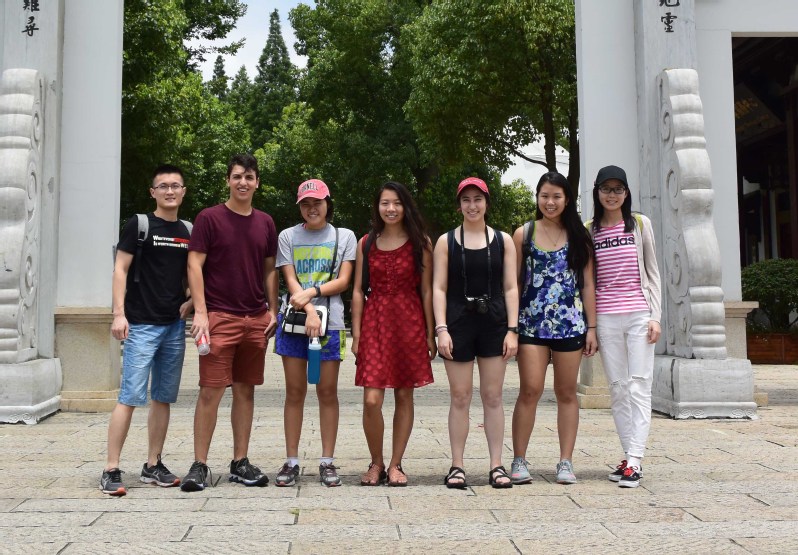 For several of the students, the opportunity to research at ShanghaiTech was a strategic one. "At UChicago, undergraduate work in synthetic biology is a bit harder to get into and I actually came here to work with the lab director [SLST's Professor Hongjun Liu] just because I really love what he's doing," said Harter. He said he was impressed with the speed of research results that could be achieved at ShanghaiTech. "Every day we make a new primer, something we need to test, and you get it the next day. It's really crazy to get your materials in 24 hours. At UChicago you can usually get something sequenced in a few days, but primers can take upwards of a week. Here, I'm getting it in 24 hours."
Jenny Cao, a Cornell student who spent her summer at SIAIS working on micro-engineering human in vitro models, has been impressed with the level of research funding available here. "There's just so much more access to equipment here," she said. "There was a microscope that I got ahalf hour training [on] and a full day to figure out how to use. I've been working with all these expensive versions of things, and I can just use them and touch them, whereas in our school most students wouldn't have access to things like that," she said.
That funding is making it possible to see some exciting developments, said the students. Yi, who spent her summer with SLST Professor Yang Yang working on Neural Basis of Learning and Memory said, "It's interesting to see real progress being made and real groundbreaking things [happening]." Harter said he was impressed that even in such a short time, he could observe progress. "It sounds like we have a really major new direction to go and it will be interesting to see how this plays out."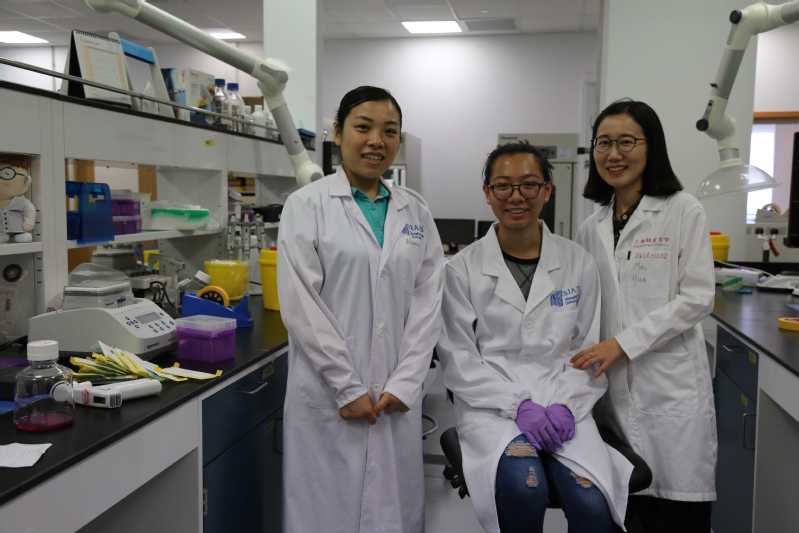 Between the lab work and the culture shock, the students were exhausted at the end of each day. Harter explained, "With lab work, even though you not working constantly, you have to be focused, and it's draining." But determined to make the most of their summer in China, they still managed to find some time to have fun. Xin said she took advantage of her downtime to go to Disneyland and visit her family in Hangzhou. But for the other students, just a trip to downtown Shanghai was an adventure. Cornell student AG Colinco said that outside of the lab, she was surprised to be such an object of interest when she spoke English while riding the subway with the other Summer Research Program students. Yi and Phung, who is Chinese-American and speaks some Chinese, remembered similar experiences where they were surprised to be the center of attention. "People were staring and talking about us, saying how sing-songy our voices were," Phung recalled.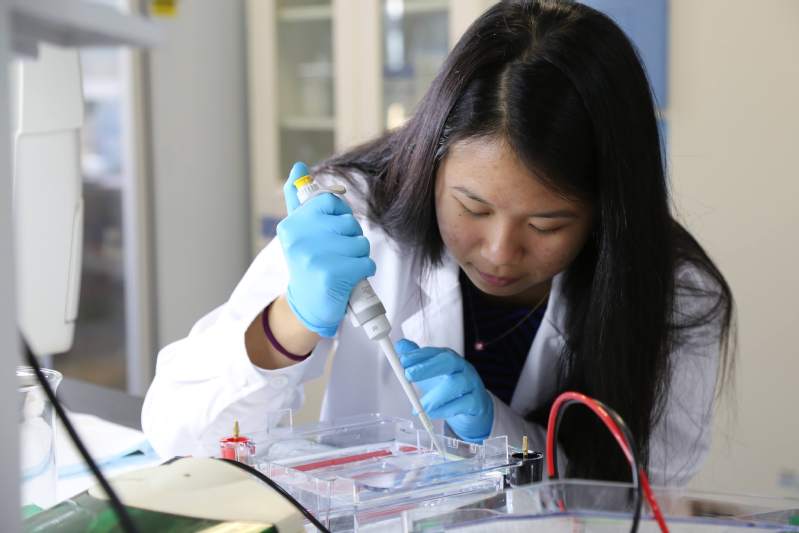 Of course, no study abroad experience is complete without a good scary story.On a weekend trip to Anhui Province, the group had a harrowing experience getting lost on Huangshan Mountain during stormy weather. Avoiding falling rocks and battling altitude sickness and exhaustion, they happened to run into a group of Chinese university students in a similar predicament. They shared their snacks and water with the Chinese students, who in turn carried their bags and helped them get to a hotel, which unfortunately was full. As the students contemplated sleeping outside or continuing to climb down the mountain in the dark, they took a gamble and the adventure ended with a mad dash to make it onto the last cable car of the day. Of course, they documented the entire experience on Wechat and Instagram to share with everyone at home! In this age of social media, they have maintained contact with the Chinese students and since become friends. So what could have been a complete disaster turned out to be a great memory.
As the students prepared to leave ShanghaiTech and return to school in the US, they took with them an appreciation for how hardworking and determined the faculty and students at ShanghaiTech are. "Whether it's running three experiments in one day and working from 9am to 9pm, they get it done if needed," recalled Phung. "I definitely have a cultural appreciation of how research labs are conducted in other countries," she added. "China was such an interesting place to have a research internship as it combined both my culture and my interests and it was very interesting to see how they came together."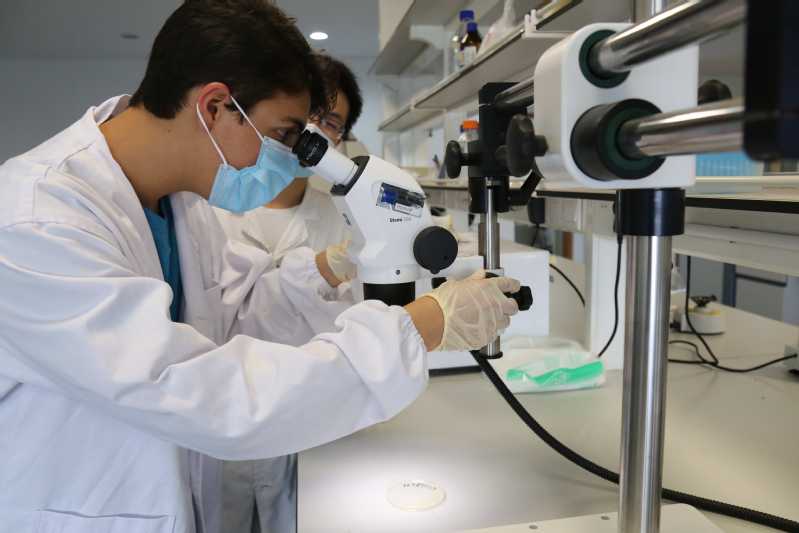 The students said that their summer at ShanghaiTech has had an influence on them. Yi said she took away a "renewed passion for research. When you're surrounded by so many people who want to give you best experience possible and are so invested in it themselves you can grow to love it." She added, "ShanghaiTech is a place I'd want to stay connected with in the future. They're really open to collaboration."
As many visitors to ShanghaiTech and Shanghai can attest, the energy of this community is unique and invigorating. "I am taking away the beauty and upbeat vibe of Shanghai, something that I think is a part of this whole experience," Phung said. "Every day, I woke up excited to take on the day!"