In May, President Jiang attended the 4th International Universia Presidents Meeting in the University of Salamanca, Spain and visited the headquarter of Santander Bank. He met with Executive Chairman of Santander Bank Ana Botín, CEO of Santander Group Jose Antonio Alvarez and Senior Executive VP Victor Matarranz and discussed further cooperation with Santander Bank on the basis of existing programs.

ShanghaiTech and Santander Bank signed a memorandum of understanding in April, 2014 and the two sides reached a funding agreement in November, 2015 to subsidize ShanghaiTech students and faculty members to attend international conferences, visiting programs and Spanish-language courses. The visit of the ShanghaiTech delegation to Santander Bank will strengthen bilateral ties and further the ShanghaiTech-Santander collaboration.
Organized by Universia and Santander Bank, the two-day meeting brought together 600 university presidents from 26 countries representing 10 million university students around the world to discuss topics the theme of "University, Society and Future" and the challenges facing universities. The meeting's conclusions are set out in the 'Salamanca Charter,' a document reiterating the universities' commitment to continue leading progress by reinventing and transforming themselves.
Founded in 1857, Santander Bank is the largest bank in Spain and has established branches in more than 40 nations. It is the largest financial group in Spain and Latin America, with prominent positions in the UK, Brazil, Portugal, Germany, Poland and the northeastern United States. The Santander Group has made a long-term commitment to the higher education sector. Since 1996, Santander Universities has been collaborating with colleges, universities, and research centers, distinguishing it from other national and international banks and financial institutions.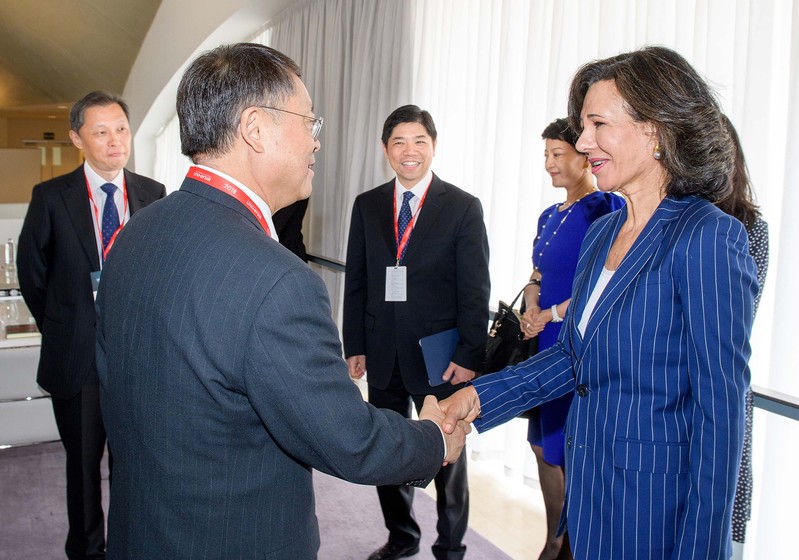 President Jiang with Executive Chairman of Santander Bank Ana Botín